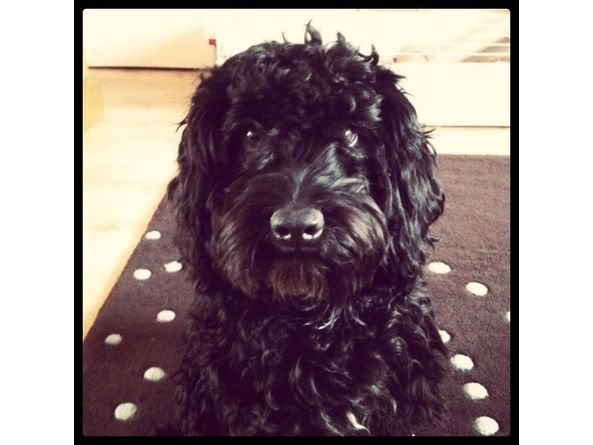 I think a cockapoo might be the answer.
It's been sixteen months since that horrible night when we lost Steven.
It's been quite a tough time for everyone. I think it's fair to say that we relive the accident every day, and although we don't always talk about it, it's there in idle thoughts and sometimes my kids' nightmares.
I've felt like the worst mother on earth for having caused the accident and I've cursed myself again and again. 
But it happened and we have to move on. If I caused it, I should sort it.
I miss Steve most when I'm alone, working. That's when it used to be just me and him, with me typing and him snoring under the desk. As Edith Wharton said, 'my little dog, a heartbeat at my feet'.
Just recently, I spent any days I did have alone thinking about whether another dog could help us. Pretty quickly, I realised the time was never going to be right for this. If I waited for everyone to be 'over' Steve it was almost certainly not going to happen. And I didn't want my children's memories of childhood pets to be about blood on a roadside and raw grief.
The moment presented itself. A friend of a friend of a friend had a change in circumstances - probably not fair to go into here - and was forced to make the decision that Beau, an 11 month old cockapoo was going to have to find another family to give him the love and attention he needed and deserved.
It had to be done. I almost had to force myself to knock on that door - I knew there was no walking away once I did. But it was the right thing to do. I knew that when I brought him home and I heard shouts of laughter from the garden just like the old days.
We could not ask for a better boy. He has settled in immediately, and the children love him. It's not plain sailing - both kids are extremely nervous about him running free and he will only be able to do that when we are far from any possibility of traffic. But Beau is already exceptionally obedient, has great recall and far less wired energy than Steve. A good combination for us.
We love the fact that Beau's mum was a blue roan cocker, just like Stevie. It fits.
We still see that night, we still talk about it. We hear the sound of Steve being hit and we relive the aftermath. But when we turn the other way, there is a new friend to make us smile and I'm so overwhelmed that my children are brave enough to give him a chance.
He belongs with us.