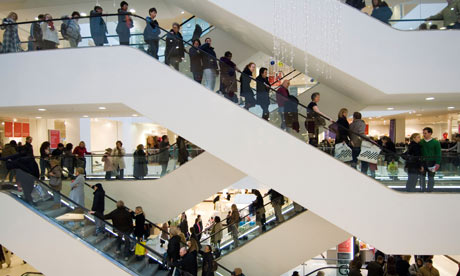 My innocent childhood fantasies have never left me. I would still kill to make a cup of tea in the back of a moving caravan or have a bath on a plane, Imperial Leather-style.
But the one experience I've craved more than any is to be trapped in a department store. What I would not give to wander gormless out the ladies' at 6.01pm and realise that I'd been locked, alone, inside. Whoooooaaah.
In my own tiny mind, I am still 7 or 8 and in Arnotts, Argyle Street, Glasgow. Sweetie counters on the ground floor would be my first stop. Then I'd prance around in a selection of bridesmaid's dresses, press every button on every telly, try on a few Miss Mary of Sweden foundation garments and have a wee coorie into (ie mess up) every single bed displaying the new-fangled "continental quilts."
What would you do? Beds seem to have a certain attraction. Before you could say 'shop soiled Yves Delorme bolster sham' this lot would be bouncing the way through the Craftmatic adjustables.
"Snuggle up in the bed dept and be grateful for uninterupted sleep," says @Ieucel, who I suspect has a rampant partner or many small children. Suppose one begets the other.
@audreygillan raises the bar with the quality of her snooze experience. "Would you not go up to lingerie and get new, really really dear silk knickers & cami & a cashmere goony, then do aw the beds?" she ponders, Glaswegianly. Simple answer: "aye."
@HelenSparkles would "go to sleep in the window". (Hopefully not Amsterdam-style, dear.) But she's also to be found "trying out all the different Nespresso flavours."  Novel.
"For their own sake," says @Almacdse1 "they'd better hope the pic'n'mix section has additional security." JUST what we need. Dentists and LighterLife counsellors could do this voluntarily in their time off, Al.
@siriolg takes us on a cinematic journey with her bedtime wish. "Hope for a zombie invasion so that I could recreate Dawn of the Dead". Oh.
None of your Harrods and Selfridges for @lucymccarry who, like myself, is a TK Maxx mentalist and has an overnight itinerary for her discount wonderland. She would "eat a' ra Jelly Bellys, douse ma sen in Weleda night 'creme' and get intae CK jamas (men's, unsold)." What, no testing of the yoga dumbells?
And if the tone could be lowered further, @humphreyshere pledges he'd, "Play dress up and sleep with four of the mannequins." Yeah, hands off those bridesmaid's frocks, but.
Tune in tonight, pals, for another Lesley's Bedtime Question @lesleyjones